Runaway Bay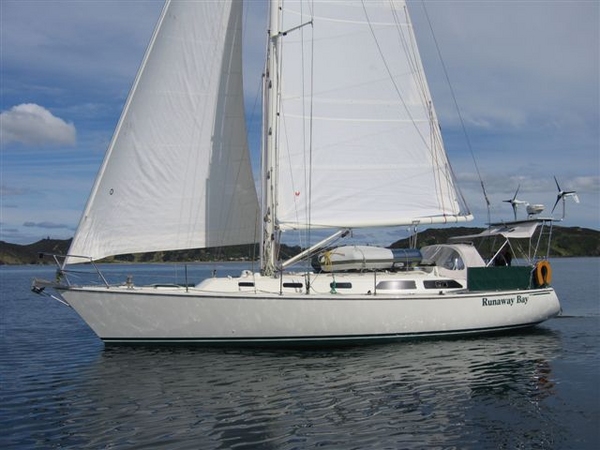 We had owned Runaway Bay since 2005 selling her to Phil Airey from Auckland late in 2016.
She was built in 1984 for an Auckland financier and launched as "Rogue II". Her name was changed to Runaway Bay by her next owner, a chap from Russell I believe. Then she was sold and renamed Jubilare and was moored at Opua when sold to Terry Iverson of USA who renamed her Valkyrie. (This was the name Terry had called all of the yachts he had owned).
Terry spent in excess of $400,000 buying and renovating the vessel putting a new motor, electrics, rigging and sails in the 4 years prior to selling her to us. We re-registered her as a NZ ship and reverted to the old Runaway Bay name, using the sail numbers of Jubilare and to keep the vessel as it was intended, a lovely New Zealand yacht.
Runaway Bay is a three skin kauri timber Lidgard 42 foot sloop in the "Regardless series", (a group of yachts named after the first boat built of the series), designed by John Lidgard. They are a timeless design, strong and reliable with magnificent sailing ability. Runaway Bay was also built by the designer John Lidgard in his workshop at Auckland and launched in 1984.
All the exterior has been fibreglassed, the interior is all kauri and teak with lovely laminated roof beams. Her cabinetry is New Zealand yacht building craftsmanship at its best.
She has a good aft captain's cabin, a smaller guest cabin and large open saloon galley area leading into forward cabin and toilet shower area. Runaway Bay has a Spectra 180 water maker to convert sea water to fresh water. She has two solar panels and two wind generators for power supply, and the 56 HP Yanmar engine has a 160 and 80 amp alternator, all power distributed through a Hi Tec distribution centre with low Tec back up. Her navigation, radar, radio and ship to shore communication are all top of the line so owners and crew can communicate and navigate the world's oceans safely.
John Lidgard built about twelve of these yachts and another fifteen or so have been built by other builders here and overseas. Regardless yachts have been sailed all around the Pacific and further afield winning races and giving their owners safe solid pleasurable sailing. The original Regardless has also been restored and is now owned by Johnny Bell and sailed out of Akaroa Harbour (Christchurch).
Runaway Bay has had many journeys up into the Pacific with her previous owners. Whilst we owned her we sailed the Northland Coast, our favourite spot being Whangamumu Harbour, plus a circumnavigation of the South Island returning to the North via the West Coast with our best days sail over 170 miles.We cruised in the South Pacific in 2008, spending six months between Tonga, Fiji, Vanuatu and New Caledonia then since have sailed back and forth from Auckland and up to North Cape a number of times.
My sailing experience began as a young boy and I have spent a lot of time on the water in various craft over my sailing years. My stepfather Gilbert Hall, ex Waiuku Queen Scout, built me a small yacht to sail when I arrived from England in the early 60's. I progressed to NZ Moth then Cherub and Flying Dutchman and then in latter years sailed a SurfCat then later owned a Quicksilver 16 trailer sailor. Christine and I bought a Compass Yachts H28 called Husvale in 2002 which we sailed out of Mill Bay Mangonui until we decided to buy a larger yacht. After much researching and looking at many vessels we settled on the Lidgard 42. I have crewed to Fiji with a couple of Swedish guys on a Halberg Rassy 42, " Albatross" in 2004, and to Vanuatu with Shane Tobin from Kaikohe on his Ganley 40' "Waiora" in 2005 then again Tonga back to NZ via Fiji on a Beneteau 433 2013.
When she was out of the water in 2006 we covered Runaway Bay's teak deck with fibreglass. Teak looks lovely but is hard to maintain and gets very hot in the tropics, and ours was starting to show signs of wear. We selected Craig Partridge Yachts of Waipapa to do the work because of Craig's reputation we felt that the job will be done to a high standard, and while she was out of the water she  also had a complete repaint by Ian Stewart and some cabinet work and electrical work done by Bob Evans in the navigation area to make electrical servicing easier when off shore.
We are sure the new owner of Runaway Bay will enjoy her as much as we have.
Our next adventure is from Plymouth England where we have bought a Dufour 405 and will sail her back to NZ during 2017 to 2018 using crew as Chrissie will nto go off shore again. Currently she is named Jambo which is Swahili for Hello which does nothing for us in New Zealand waters so will rename her "te Rere" which means in Maori "to fly" and is associated with water usually.